Brief History of the Company
Staff
Corporate Informaiton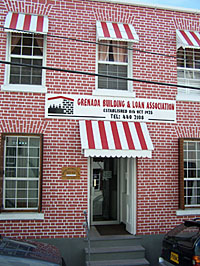 The Grenada Building & Loan Association has been in existence for 81 years, having been registered on October 7, 1925, under the Building Societies Ordinance 1887.  The pioneers of the Association were Messrs Arnold Williamson, R O Williams, F L Gresham and Dr Arnot Steele, all of St. George's.  As far as could be ascertained, the first offices of the Association were located at Young Street, St. George's at what was then Williamson's Building, the premises  now occupied by the Grenada Marketing and National Importing Board.  Subsequently these offices were relocated to Mr. John Renwick's Building at Church Street, opposite the St. George's Anglican School, then to its present location, the premises having been purchased from the Mac Leish family.
The first Presidents of the Association were Messrs. Arnold Williamson, R O Williamson, John Renwick and C W Coard.  Early directors were F L Gresham, W H Jacobs, E Earle Hughes, A D W Johnson, Dr Arnto Steele and W A Date.  The present Board of Directors comprises of Mr. C A St. Bernard, CBE, QC,. President; Mr. E. C. Wilkinson, Vice President; Dr. Guido Marcelle and Mr. Samuel Brathwaite.
The role and function of the Association have always been to provide housing facilities to Grenadians, particularly those in the middle and lower income brackets.  The Association's efforts in this direction have always supplemented the Government's efforts in their various housing programs.
These functions, interalia, are outlined in the Rules of the Association: " To make advances to its members on the security of unencumbered real estate owned by them, or on mortgage securities on real estate, or on the security of their unadvanced shares, or to aid them in acquiring estate, and making improvements to them or by removing encumbrances for them."
From its small beginning the Association has grown steadily over the years.  Funding for activities and projects are generated from sale of Shares, Deposits and investment in local legal mortgages.  Relevant information as to the Association's progress and development could be obtained from a perusal of the director's annual reports and financial statements, copies of which could be obtained online and from the Association's office.
A major problem facing the Association is the high incidence of taxation it is obliged to bear as a result of the Corporatation Tax. This is not only burdensome, but extremely frustrating to the Association's efforts at providing much needed services to the community, not only in the area of housing facilities, but by providing opportunities for investment by small investors in the area of shares and deposits at reasonable rates of return.
Representation has been made to the Government for relief more than once but without any response.  Nevertheless, the Association continues to function and make a very worthwhile contribution to the economy of Grenada.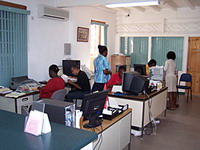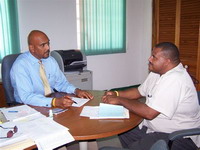 Grenada Building & Loan Association has a staff of eight consisting of the following:
| | |
| --- | --- |
| Lennox B Campbell, J.P., MBA. | Secretary/Manager |
| Samantha Blackburn | Accountant |
| Joy Fletcher | Cashier |
| Coline J. Joseph, CAT | Finance Officer |
| Theresa Wickham | Secretary |
| Ronell Thomas | Delinquency Control Officer |
| Mary Paul | Office Clerk |
| Joan John | Office Attendant |
Directors
Registered Office

President
E.C. Wilkinson, LL.B (Hons) LOND.
Barrister-at-Law

Vice President
Guido Marcelle, Ph.D.
Barrister-at-Law

Joseph John, Dip, S.E.

Samuel Brathwaite, MAAT, ACC. Director

12 Church Street
St. George's
Grenada
Secretary
Solicitors
Lennox B. Campbell, MBA, ACC. Director
Lewis & Renwick
Church Street
St. George's
Grenada
Bankers
Counsel
RBTT Grenada Ltd
Cnr. Halifax & Gore Sts.
St. George's
Grenada
James A. L. Bristol, Esq.
Lower Lucas Street
St. George's
Grenada
Auditors
Trustees
Pannell Kerr Foster
Grand Anse
St. George's
Grenada
Dr. Guido Marcelle, Ph.D
E. C. Wilkinson, LL.B (Hons.) LOND.